In what aspects we will have to look to determine if the quality in the manufacture and construction of padel courts that offer us is the one we want.
The padel courts have the same dimensions and shapes to comply with the Federative standard.
Therefore, at first look it may seem that all padel courts are the same, but it is not so, you have to delve into the characteristics of the materials and how they are manufactured to differentiate them.
The characteristics that we have to look at when assessing the quality of a padel court can be the following:
Regarding the structure of the enclosure in the manufacture and construction of Padel Courts
Type of steel, is it galvanized?
What are the dimensions of the profiles.
Type of anchor shoes, dimensions.
Type of screws
System of subjection and support of the crystals to the structure.
Support surface of the glass with the structure.
System of fastening of the mesh to the structure,
Glass thickness 10 or 12 mm.
About the artificial grass used in the manufacture and construction of Padel Courts
Fibrillated or monofilament model.
Composition of the yarn, polyethylene or polypropylene.
Number of stitches.
Number of Dtex.
Regarding the lighting used in the manufacture and construction of Padel Courts
Number of lights and power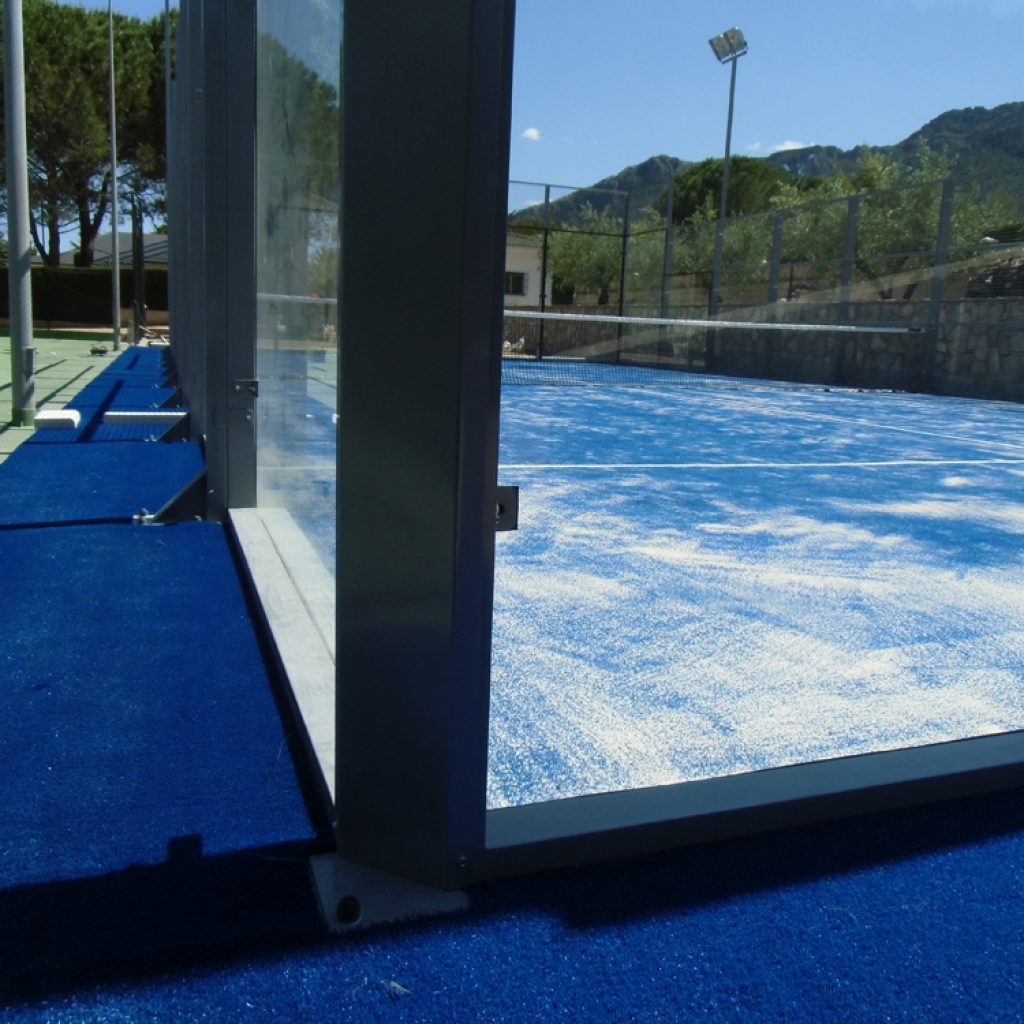 In Verdepadel our mission is to offer comprehensive services in the manufacture and
construction of Padel Courts (and other sports facilities).
We have different models of padel courts depending on the type of structure you want: Panoramic, model 100, 80 and model 140.
All models meet the technical requirements of the Spanish and International Padel Federation and are in accordance with European standards of sports facilities, the common features are as follows.
The structure is galvanised and oven-painted.
The screws are stainless steel with plastic plugs.
Neoprene gaskets.
As optional aspects in the manufacture and construction of Padel Courts, the padel courts can have:
12 mm. artificial grass of fibrillated or monofilament type with the colors : green, blue, tile and fuchsia.
The lighting columns can have 8 spotlights or 4 spotlights of 400 w each.
The enclosure can be with doors on both sides of the track or with free openings.
The tempered glass panels can be 10 and 12 mm thick, with 6 fastenings to the structure in the 3 x 2 and 4 fastenings in the 2 x 2.
The budget for the construction of padel tennis courts depends on several factors such as the state of the surface where you are going to install or build the padel tennis court, the material used in walls, beams and playing surface, etc … but to give you an approximate idea in Verdepadel we make the construction of a padel tennis court from only 15,000 €.
Now you know, if you are looking for a company for the manufacture and construction of Padel Courts, you can ask for a quote and terms without obligation