Installation of Artificial Turf SwingBall Courts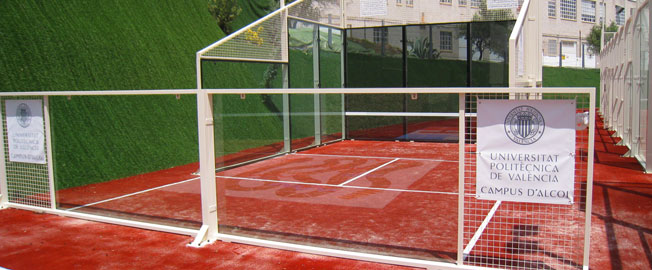 The installation of artificial grass Swingball courts and the practice of this sport is a recent addition to society (at the beginning of the 21st century).
Swingball is a sport that combines the virtues of three racket sports, as it uses tennis balls, paddle rackets and is played in front of fronton walls with an aspect very similar to squash and a game mode based on ping-pong.
A fun all-in-one game
The size of a standard Swingball court is 45 square metres: 9 metres long by 5 metres wide, which allows you to install several artificial grass Swingball courts where you can fit a paddle court installation.
The advantages of installing a Swingball court with artificial turf are basically the same as when we talk about paddle tennis court installations with artificial turf and synthetic grass tennis court installations; that is great drainage capacity, good cushioning and feel, great ball bounce and less maintenance, resulting in great cost savings.
At Verdepadel, as a professional installation company of artificial grass on Swingball courts throughout Spain, we have the experience of having installed a large number of Swingball courts, so you will get a quality service both in materials and execution times and a budget
tailored to your needs.
Tips for maintenance of artificial grass Swingball courts.