Installation of Artificial Turf Golf Courses and Minigolf Courses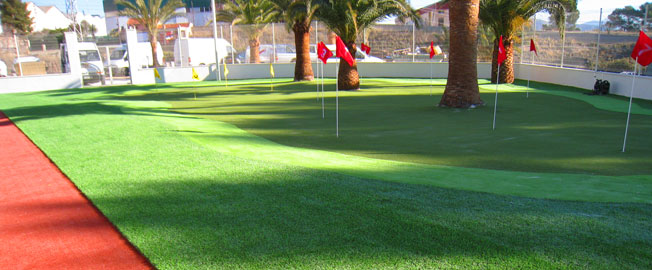 Artificial turf for golf and mini golf courses.
The evolution of the technology behind artificial turf has meant that in recent years it has been possible to generate special types of artificial turf suitable for the construction and installation of golf and mini-golf courses.
The manufacturers of artificial sports turf have achieved synthetic turf with a look, feel, hardness and colour very similar to natural grass, eliminating, to a large extent, the level of abrasion of the grass and thus achieving a high degree of comfort and safety in sports practice.
Golf has become fashionable in recent years, which has led to a greater demand and demand in the resistance of the playing surface, both by the owners of the facilities and by the players themselves
As far as the use of golf and mini golf facilities with synthetic grass and artificial turf is concerned, there are some experts who claim that artificial turf offers better performance even than natural grass when playing golf and mini golf.
Different types of artificial grass for golf courses.
The grass and the different way of cutting and maintaining it can now be emulated by combining different types of artificial turf.
Nowadays and with the state of the art of artificial grass it is possible to imitate the grass of the green, the antegreen, the rough and of course the fairways of any hole of a golf course.
The installation of synthetic grass sports courts that achieve the total satisfaction of the golf and mini golf player requires that their functional and emotional demands of the game are covered, the latter referring to the perception and what the user expects from the golf course.
Specialists in the construction and installation of artificial turf for golf and mini golf courses.
Verdepadel, as a professional installation company of artificial turf golf and mini golf courses, guarantees excellent facilities that exceed the expectations of demanding golf and mini golf players with the installation of artificial turf of different heights and density to obtain the natural effect in each playing area.
Advice on maintenance of artificial turf golf and mini golf courses.
Visit our work on artificial turf golf courses and mini golf courses