Installation of Resin Tennis Courts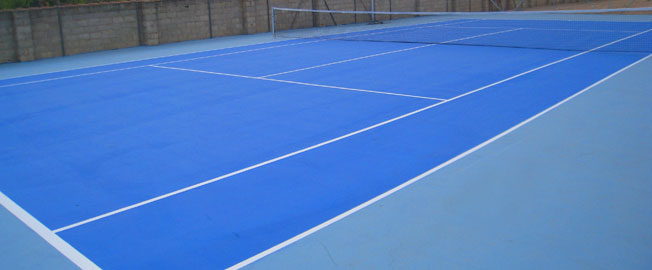 Tennis is a sport closely associated with the summer season or areas where the sun shines most of the year, especially at amateur level and always talking about outdoor tennis courts.
In many residential areas, housing estates, etc… the practice of this sport has propagated.
This "socialisation" of tennis has also meant an increase in the number of tennis clubs
The construction of tennis courts with synthetic resin has the following advantages: easy maintenance of the court, a perfect bounce of the tennis ball, long life of the tennis court installation and a great variety in the choice of colours of the synthetic resin tennis court.
Verdepadel, as a professional company in the installation of synthetic resin tennis courts throughout Spain, guarantees that the installation of the tennis court complies with the requirements of the Royal Spanish Tennis Federation, counting on a professional technical team and a great experience in the construction of synthetic resin tennis courts.
Maintenance tips for Synthetic Resin Tennis Courts
Visit our work on resin tennis court installation.