Installation of Artificial Turf Football Fields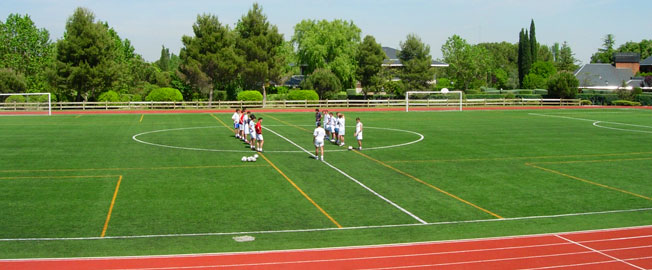 Football, in all its forms ( football 11, football 7, etc… ) is the most popular sport in Spain.
Due to its easy access, its repercussions in the media and the abundance of football fields, formerly of earth, and nowadays due to the great number of constructions and installations of artificial grass football fields.
Construction of Artificial Turf Football Fields
The great advances made in recent years in the manufacture and installation of artificial turf as a sports surface have achieved an appearance, feel, hardness and colour very similar to natural grass.
But eliminating, to a large extent, the level of abrasion of the grass and thus achieving a high degree of comfort and safety in the sport of football.
Advantages of artificial grass football fields.
In addition, the installation and construction of large artificial turf sports fields, such as those dedicated to 11 or 7 football, contributes significantly to the water saving promoted by the different administrations in all public works.
By way of example, let us point out that the need and expenditure of water of an artificial turf football field is practically 90% less if we compare it with a natural grass one.
In addition to this, the use of a synthetic turf football pitch is nine times higher, reaching 1,800 hours a year of playing 11 or 7 football compared to the 200 hours a year offered by natural grass pitches.
The installation of synthetic turf football pitches allows intensive use of the facility, guarantees high quality standards and minimises maintenance costs.
When is it advisable to install artificial turf football pitches?
–   When the artificial turf football pitch will be used by more than one team.
–   When you want to reduce the maintenance costs of the football pitch
–   When the weather conditions in the area where football is going to be played are very rainy, cold or hot.
Specialists in the construction of artificial grass football pitches.
Verdepadel, Verdepadel, as a professional installation company of artificial turf football pitches throughout the national territory, has made a wide variety of installations of synthetic grass football
pitches, both for Football 11 and Football 7 with artificial turf of 60 mm height and with different qualities depending on the Dtex, with a load of sand and rubber that is spread with mechanical means, to obtain a homogeneity in the filling of the turf.
Advice on maintenance of artificial turf football pitches.
Visit our work on the installation of artificial turf football pitches.